How I Help
Leadership Mastery
Our LEADERSHIP MASTERY Program 1.0
Leadership & Corporate Training For Organizations Looking to Develop Their Top Level Managers and Rising Executives
Talent management lifecycle uncovered and applied to your unique needs
Designed from decades of best practice ROI with Fortune 100 C-Suite
Designed from real needs and multiple best-practice graduate-level texts
Monthly on-site developmental engagements, coaching & consulting applied to your immediate needs for long term success
12-Months to sustained greatness
Live, On-Site 12 Month Program
Continuing Professional Education (CPS) Accredited / LOGO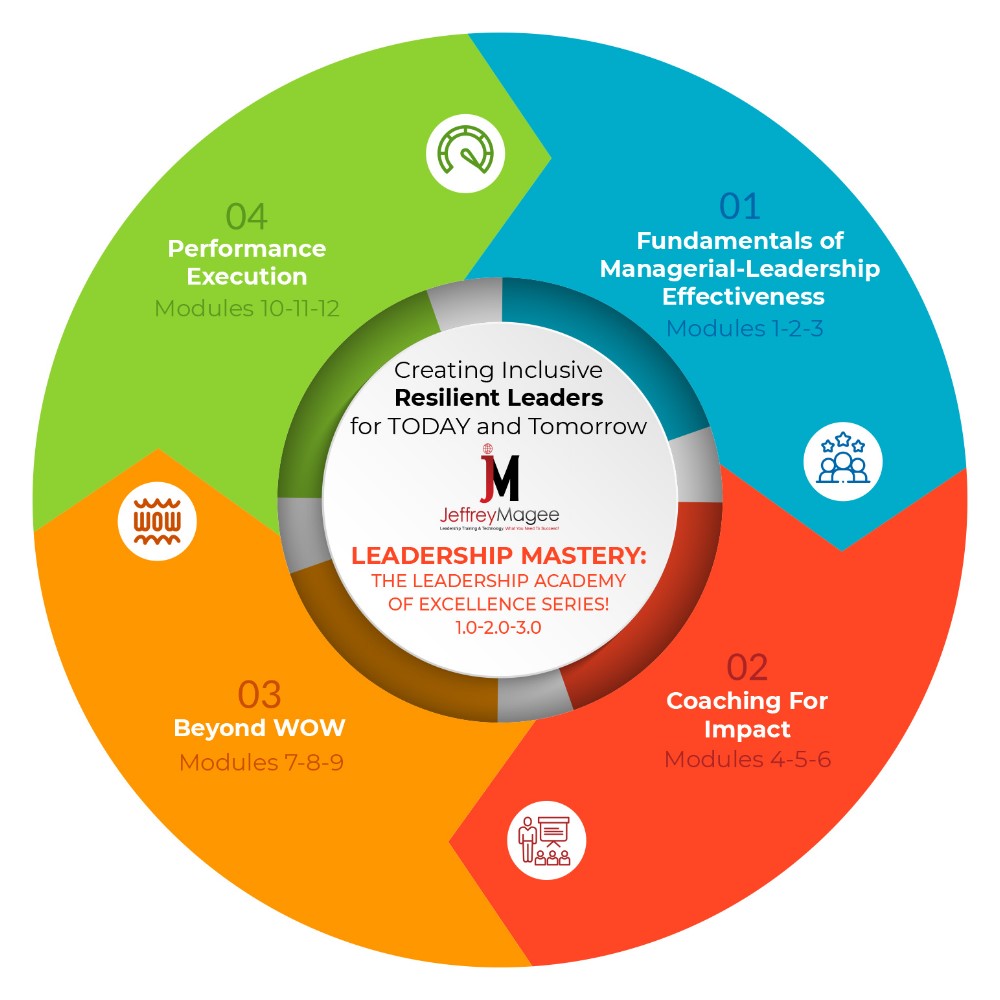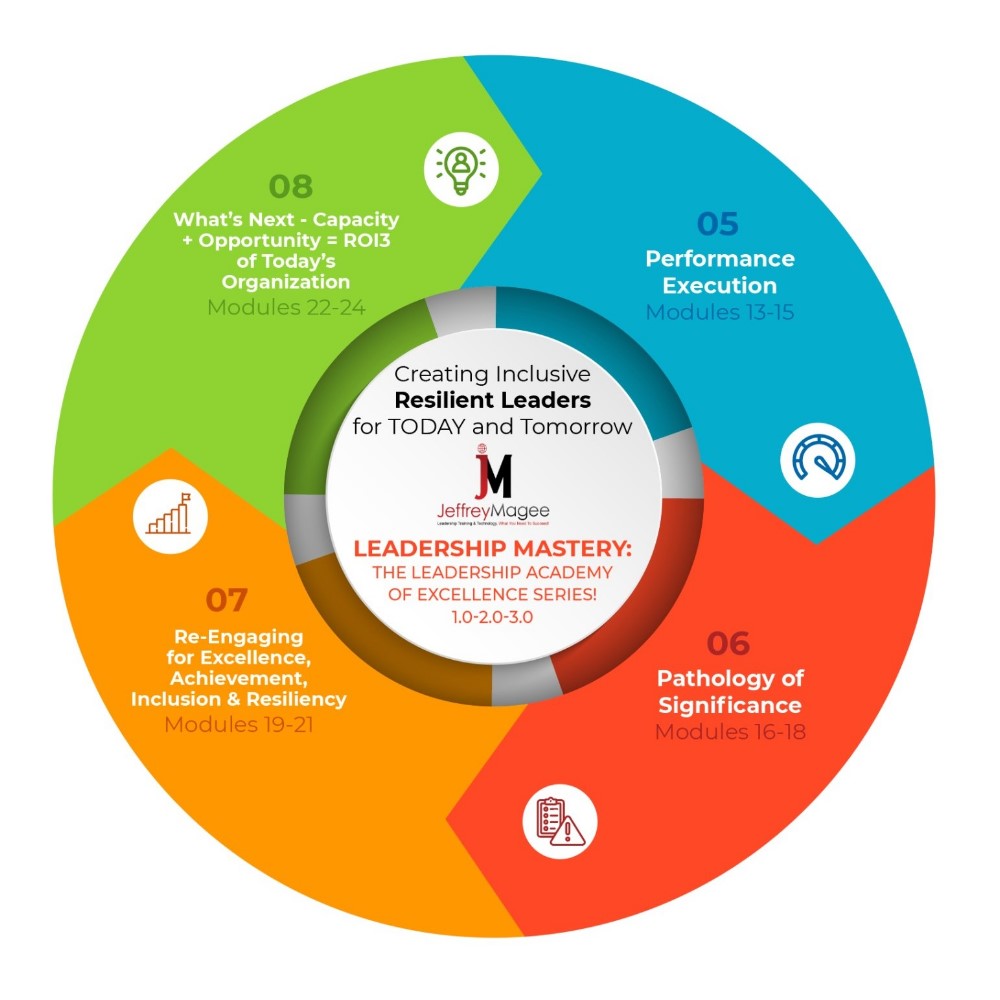 OUR LEADERSHIP ACADEMY OF EXCELLENCE PROGRAM 2.O & 3.0 The Next level & BEYOND
Free 45 Minute Consultation
This is the perfect way to explore if working with Jeff is the right move for you or your organization.
A Closer Look at Our Program
Here is a closer look at all the different items and resources that come with this amazing program.
ITEM #1

PERFORMANCE ACCELERATION WHITE PAPERS

Executive calibration Performance Acceleration™ White Papers allowing deeper application of strategies and techniques presented in the program and from group discussions designed to enhance adaptation of best-practices.
ITEM #2

MONTHLY PODCASTS

Monthly podcast audio programs to reinforce behaviors and stimulate thought between sessions.
ITEM #3

PERFORMANCE 360 MAGAZINE ONLINE SUBSCRIPTION

Online Access to Current & Past Editions of PERFORMANCE 360 Magazine with hundreds of Powerful Self-Development Articles Written by the World's Leading Achievers. Performance 360 is packed full of great content you can benchmark against and apply for sustained success and growth. Ideas exclusively for our readers and you, never seen anywhere else and not accessible in the internet world anywhere else!
ITEM #4

LEATHER-BOUND BINDER AND DAY PLANNER

Academy leather-bound binder and day planner system embossed with The Leadership Academy Excellence ™ along with your organization's logo on the outside casing. The planner is designed to hold each monthly session's workbook materials and reminder mechanisms.

Access to the Managerial-Leadership L-Grid™ excel spreadsheet analyzer, which allows the leadership team to be held accountable for the developmental intervention of their direct reports on a monthly basis to ensure growth.
ITEM #5

BI-MONTHLY DRILL DOWN EXERCISES

24 Weekly/Bi-Monthly Drill Down Exercises emailed directly to participants where each core Monthly LAE Module is reinforced with personal application exercises that can be implemented personally or team-wide.
ITEM #6

4 COURSE BOOKS (HARD-COPY)

Each member receives four course books to accompany the year-long training.
1st Quarter:The Managerial-Leadership Bible™ Revised Edition
2nd Quarter:Coaching for Impact: Generational Connectivity & Engagement for Success™
3rd Quarter:Beyond WOW™ and it! How to FIND It, GET It, KEEP It & GROW It™
4th Quarter:Your Trajectory Code™
ITEM #7

ONE-ON-ONE SKYPE COACHING WITH JEFFREY MAGEE!

52 weeks of Executive one-on-one Skype Coaching with Dr. Jeffrey Magee and your leadership and/or sales team; Participant driven option.
ITEM #8

WEEKLY NEWSLETTER

52 weeks of the powerful syndicated on-line newsletter Trajectory Code: Leadership Moment & Performance Execution™ articles/blogs.

52 weeks of the powerful syndicated on-line newsletter Performance Driven Selling™ articles/blogs.
ITEM #9

REINFORCEMENT IN MONTHS 13 TO 24

The twelve- month Leadership of Academy of Excellence™ Series concludes with participants being led by the program facilitator in crafting reinforcement monthly follow-up action plans that will be sent back as virtual touch-points for month thirteen through twenty-four, further enhancing the development and growth of your human capital talent pool.
Program Modules
Here is a complete list and description of the modules included in this training program.